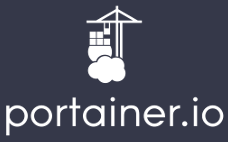 Portainer gives you access to a central overview of your Docker host or Swarm cluster. From the dashboard, you can easily access any manageable entity.
SIMPLE TO USE
It has never been so easy to manage Docker. Portainer provides a detailed overview of Docker and allows you to manage containers, images, networks and volumes. It is also really easy to deploy, you are just one Docker command away from running Portainer anywhere.
MADE FOR DOCKER
Portainer is meant to be plugged on top of the Docker API. It has support for the latest versions of Docker, Docker Swarm and Swarm mode.
PORTAINER & DOCKER

Portainer has been built to run on a Docker engine so it can run anywhere where Docker is running. It is compatible with Docker for Linux AND Docker for Windows.
It has been designed to support everything that the Docker API has to offer. As the Docker API will evolve and propose new features, so will Portainer.
MULTIPLE VERSIONS COMPLIANT
Portainer is compatible with multiple Docker versions.